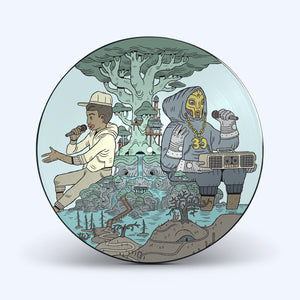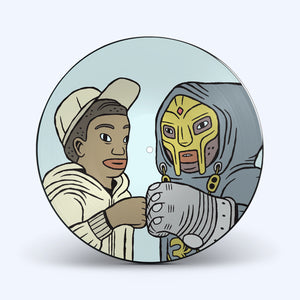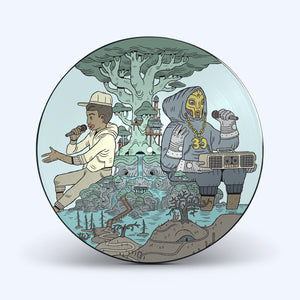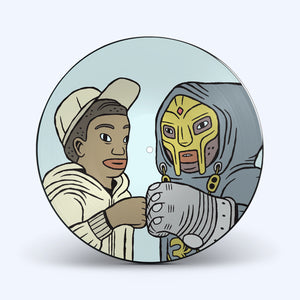 On Sale
NEHRUVIANDOOM REDUX 5th Anniversary Picture Disc
The NEHRUVIANDOOM REDUX 5th anniversary picture disc is available to pre-order now.
Estimated shipping date: 31st March 2021. *
Listen to the NEHRUVIANDOOM REDUX on Spotify:
A long time ago in London… 
The VILLAIN was laying low on the fog shrouded Tin Islands when Bishop's X-Wing crashed into his swamp. It was April 2013, and that's a metaphor for Bishop's first meeting with DOOM before a show at the 100 Club. The future collaborators were booked to play in the tiny ancient jazz venue with Ghostface Killah that night. 
A month earlier Bishop had been co-signed on stage at SXSW by Nas. There was mad anticipation for his next project. Stakes were high. At the 100 Club, VILLAIN saw what Nas had seen, a real MC.  
In the months that followed Metal Fingers sent Bishop Yousendit links to folders of beats and Bishop laid down bars. The two worked remotely and then followed up with sessions in the studio.
In the Village Voice end of year round up for 2014 they reflected on the album, #2 in their best rap albums list:
There's a good few decades between the New York City-raised (but now exiled-in-London) MF DOOM and the upstate-residing Bishop Nehru, but listening to their hip-hop tryst, it's as if they've been plugged in to the same creative zone all along. The formula here is simple: DOOM produces, Bishop raps, and on occasion the curmudgeonly supervillain with the "Brillo Pad beard" also deigns to grab the mic, but it's the duo's shared off-kilter sensibility that gels the listening experience. And when they team up for the positivity-packed "Great Things," it's as if Doom has temporarily let his mask drop to embrace a nostalgic revisiting of the original K.M.D. vibe.
Amongst many swell reviews the mini-album caught a lot of criticism. Not least because it was so short, just 32 minutes. To mark the 5th anniversary, we've reduced the running time to 27 minutes. 
VINYL TRACKLIST:
INTRO

OM feat. MF DOOM

MEANS THE MOST  

SO ALONE

COMING FOR YOU

DARKNESS

CASKETS FEAT. MF DOOM

GREAT THINGS FEAT. MF DOOM

DISASTROUS FEAT. MADVILLIANZ
PRODUCERS:
Metal Fingers DOOM: All tracks except 9

MADVILLAINZ: 9
All orders received an immediate digital MP3 320kbps album download.
Artwork by Ghostshrimp.
Follow DOOM:
Facebook | Instagram | Apple Music | Spotify
Follow Bishop Nehru:
Facebook | Instagram | Spotify
*Please note that estimated shipping dates may be subject to change as a result of manufacturing disruptions caused by COVID-19.